Haipeng est ingénieur électronique chez Kickmaker, et un des témoignages probants de l'ouverture internationale et de la diversité de notre équipe, si bien que ses réponses sont en anglais même si il parle bien français:) On lui a fait le portrait ->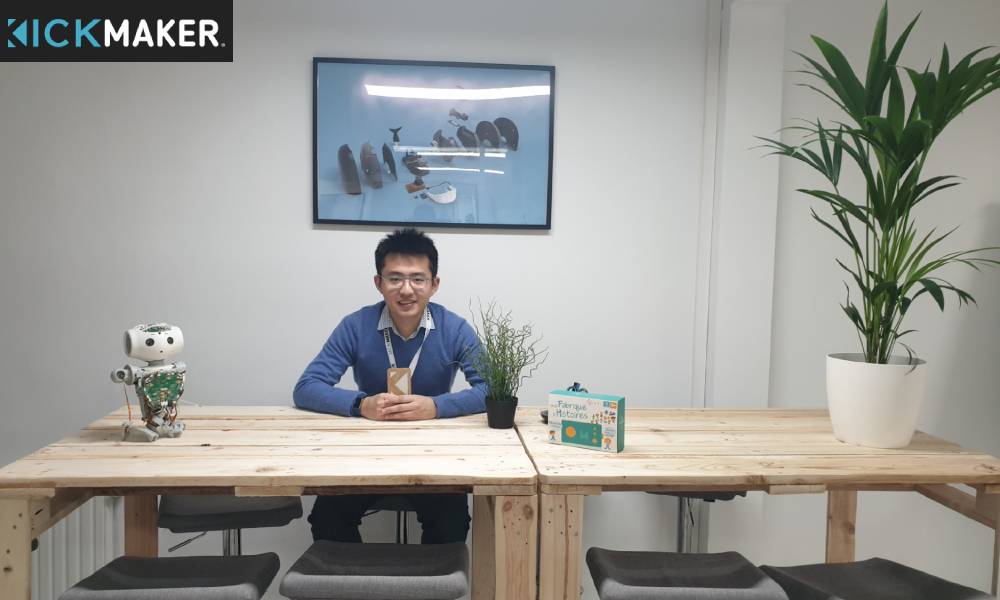 Hello Haipeng, tu peux nous parler un peu de ton parcours international ?
Thanks to an exchange programme between University of Electronic Science and Technology of China (UESTC) and University of Paris-Sud(UPS), I came to France in 2013, majoring in photonics and optic systems. At UPS, we were not supposed to focus on optics or electronics but the combination of these two.
I got my "diplôme d'ingénieur en optronique" on September 2016, then I began my career in an ophthalmic medical device company in Orsay, 25 kilometers away from Paris. At that company I was not working as an optic engineer but an electronic engineer, aiming to design electronic control systems for our optical devices. During the 14-month work at Orsay, I found my passions are more in electronics than optics and I decided to leave this company to challenge myself more in electronics.
Comment est-ce que tu as trouvé Kickmaker ?
I would say I'm a lucky boy, I met the right company at the right time, and I made the right decision. During September and October 2017, I updated my profile in LinkedIn and changed my status to "Seeking for an opportunity". Several companies contacted me but I was not interested in their projects. One day in October, I got a message from Victor NJOKE at Kickmaker, he introduced to me what Kickmaker did and what was Kickmaker's ambitions. Kickmaker focuses on innovant solutions in industrialization and all their projects were so interesting. I told myself, "That's the company I want to join and these are the guys I want to work with!" So I came to Kickmaker 😉
Quelles ont été tes premières impressions ?
Kickmaker is more like a community than a company. We are not just employees, we are kickers. The ambiance at Kickmaker is quite dynamic. You feel very happy when you work with other kickers.
Peux-tu nous expliquer tes missions chez Kickmaker ?
My job here at Kickmaker is to provide electronic solutions for different projects.  I worked on three projects already at Kickmaker. The first one is an IoT device but I can't tell you more because it is still a top secret ;). My second project is a handheld tyre data collector. Maybe several years later you can find it in every car's trunk! My current project is a medical equipment for people to recover from leg weekness.
Est-ce que ça te plait de travailler sur différents projets ?
Yes of course! Our clients are from different domains and their projects are different too. While trying to figure out a solution for a project, you can often get good ideas from other projects. You can learn a lot, not just in electronics, but also in embedded system, mechanics, and even medical science!
Comment tu trouves l'ambiance au sein de l'entreprise ?
It is soooooo great!!! You'll never get bored at Kickmaker. Kickers here are all young and energetic. We have monthly Kickparty where all kickers grab a beer and share the news. After work we also do sports like football and climbing. Working at Kickmaker is so fun !
Comment est-ce que tu te vois évoluer ?
At Kickmaker I can learn a lot from other experienced electronic engineers and other engineyoers. It is very important that at the beginning of one's career there are someone to guide u. I'm very happy that at Kickmaker I'm surrounded by a lot of interesting projects and a lot of talented guys. I'm sure I can learn a lot from them.
D'autres choses que tu aimerais nous dire ?
Merci Haipeng ! 🙂 Or I should rather say thank you Haipeng

Si toi aussi tu veux kicker de beaux projets, postule !